Summary New Zealand & Sydney,
including Auckland, Rotorua, Queenstown, Christchurch, Wellington. City and country, Australia and New Zealand. travel video
Auckland
is the biggest city of New Zealand with a thriving downtown and pleasant suburbs where most live. Detailed travel video.
Rotorua
is famous for the strong local Maori culture and for the boiling hot-pots of mud powered by geothermal. travel video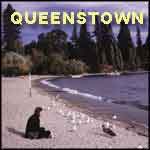 Queenstown
is the vacation center of the South Island, noted for the rugged outdoor activities and scenery, busy during all four seasons. travel video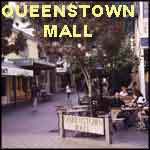 Queenstown
village center is quite attractive, with a pedestrian mall and many blocks of shops and restaurants, along with the lakeshore promenade. travel video
Christchurch
they say is the most British city outside England, with punters on the River Avon and flower gardens around most homes. travel video
Wellington
is the capital city and center of arts, movie production and cultural affairs. Cuba St Mall is a lovely focal point for downtown. travel video
Sydney
ranks among the world's great cities, with the lively harbor, major downtown, scintillating neighborhoods and regional attractions to keep you busy.